Human Resources / Careers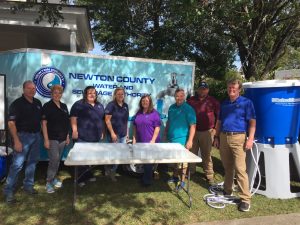 Human Resources Director: Tracey Clark
Our mission is to maximize the potential of NCWSA's greatest assets – its employees. We are committed to
recruit, develop, reward, retain, and protect the physical and human assets of NCWSA. Our vision as human
resource and safety / risk management professionals is to embrace change and the opportunity it brings. We will
accomplish this by providing services, which promote a work environment that is characterized by fair
treatment of staff, open communication, personal accountability, trust, and mutual respect.
Hours: MON – FRI 8:00am- 5:00pm
Phone: 770-385-3904
Fax: 770-786-4536
Resumes are accepted any time. Job applications are accepted for open positions only.
Utility Locator
 Occupational Summary:
Position is responsible for subsurface utility infrastructure research in the field and office.  Field work includes locating and visually marking subsurface utility infrastructure with paint, flags and whiskers for collection.  Overseeing and managing utility location data.  Office work includes preparing utility sketches, maps, and entering data into CAD/GIS databases.  Expertise in project scheduling, oral and written communication, and presenting technical research information to utility owners, project managers, planners, engineers, and land surveyors.
Work requires an educational background normally equivalent to high school. An Associate's Degree from an accredited college is preferred. Course work in skilled crafts or trades, as well as state licensure in water distribution and/or wastewater collection is considered a plus.
Please fax (770-786-4536) or email resume to tc@ncwsa.us or apply in person at 11325 Brown Bridge Road, Covington GA  30016.
---
CREWMAN II
 NATURE OF WORK
This is skilled manual work in which independent judgment is exercised in carrying out duties.
Work involves more than usual physical strength and endurance and is performed under general supervision. Verbal work orders are issued and work is inspected frequently.
EDUCATION AND EXPERIENCE
 All candidates to fill a vacant position in this classification must submit to and pass a drug-screening test, criminal background, and three-year driving record after meeting the following minimum requirements:
Completion of a standard high school course or its equivalent.  Considerable experience in similar manual work.  Considerable experience in ARC and mig welding.  Completion of DOT certified flaggers course.  Possession of a valid Georgia commercial license or any license deemed for a specific job.  An equivalent combination of education and experience is acceptable.
Apply by completing an application at:  11325 Brown Bridge Road, Covington GA  30016, fax resume to:  770-786-4536 or email resume to:  tc@ncwsa.us. 
---