Human Resources / Careers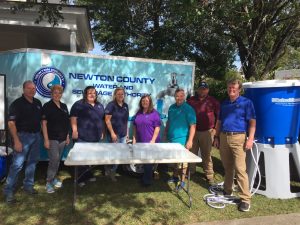 Human Resources Director: Tracey Clark
Our mission is to maximize the potential of NCWSA's greatest assets – its employees. We are committed to
recruit, develop, reward, retain, and protect the physical and human assets of NCWSA. Our vision as human
resource and safety / risk management professionals is to embrace change and the opportunity it brings. We will
accomplish this by providing services, which promote a work environment that is characterized by fair
treatment of staff, open communication, personal accountability, trust, and mutual respect.
Hours: MON – FRI 8:00am- 5:00pm
Phone: 770-385-3904
Fax: 770-786-4536
Resumes are accepted any time. Job applications are accepted for open positions only.
---
---
---
CREWMAN II
GENERAL PURPOSE
This is semi-skilled manual work in which some independent judgment is exercised in carrying out duties. Work involves more than usual physical strength and endurance and is usually performed under close supervision. Verbal work orders are issued and work is inspected frequently. One or more crewmen may assist employees in this class.
Education and Experience:
Graduation from a high school or GED. Any equivalent combination of education and experience. Possession of a valid Georgia driver's license or any license deemed for a specific job. Within one-year working test period must pass State of Georgia Water Distribution Certification. An equivalent combination of education and experience is acceptable.
HOW TO APPLY
Please send resume to the attention of Tracey Clark, NCWSA, 11325 Brown Bridge Road, Covington, GA 30016, fax to 770-786-4536 or email to tc@ncwsa.us. After selections are made, initial interview may be by telephone conference due to COVID-19. Newton County Water and Sewerage Authority, Covington, Georgia, is an Equal Opportunity Employer. In compliance with the Americans with Disabilities Act, the Authority will provide reasonable accommodations to qualified individuals with disabilities
---
---
---