Human Resources / Careers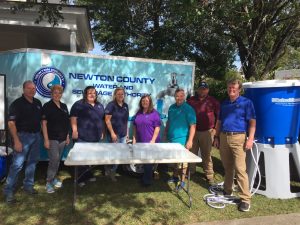 Human Resources Director: Tracey Clark
Our mission is to maximize the potential of NCWSA's greatest assets – its employees. We are committed to
recruit, develop, reward, retain, and protect the physical and human assets of NCWSA. Our vision as human
resource and safety / risk management professionals is to embrace change and the opportunity it brings. We will
accomplish this by providing services, which promote a work environment that is characterized by fair
treatment of staff, open communication, personal accountability, trust, and mutual respect.
Hours: MON – FRI 8:00am- 5:00pm
Phone: 770-385-3904
Fax: 770-786-4536
HOW TO APPLY
Please send resume to the attention of Tracey Clark, NCWSA, 11325 Brown Bridge Road, Covington, GA 30016, fax to 770-786-4536 or email to tc@ncwsa.us. After selections are made, initial interview may be by telephone conference due to COVID-19. Newton County Water and Sewerage Authority, Covington, Georgia, is an Equal Opportunity Employer. In compliance with the Americans with Disabilities Act, the Authority will provide reasonable accommodations to qualified individuals with disabilities
Resumes are accepted any time. Job applications are accepted for open positions only.
---
ASSISTANT ENGINEER
The position is full time, salaried, and falls under the Exempt status as defined by the Fair Labor Standards Act.
The Assistant Engineer reports to the Chief Engineer (who also serves as the Engineering Department Manager) and utilizes professional experience in performing planning, engineering, management, water and wastewater systems design, construction administration, and operations, to assist the Chief Engineer in ongoing engineering, planning, and management tasks.
Education, Experience and Credentials
Education: A Bachelor's Degree in Civil, Mechanical, Chemical, or Environmental Engineering, or Engineering Technology, from an accredited 4-year engineering program is required.
Experience: A minimum of six (6) years of progressive experience in public or private water and wastewater agency-oriented engineering, or the management of other similar technical programs, or an equivalent combination of education, training, and experience which provides the requisite knowledge, skills and abilities for this position is required.
Licensure: Candidate must have passed Fundamentals in Engineering (EIT) exam.  A Professional Engineer's license from the State of Georgia or the ability to obtain through reciprocity within two-years, or less, is desired.  Candidate must possess and maintain a valid Georgia Driver's license.
---
ENGINEERING TECHNICIAN III
 NATURE OF WORK
This position is entry-level technical assistance level work associated with water and wastewater system development within the Engineering Department.  Work involves developing and maintaining mapping information and other water and wastewater-related documentation. Work is performed under the instruction and review of the Chief Engineer and Engineering Technicians I/II.
EDUCATION AND EXPERIENCE
Graduation from a two-year technical school with a degree in drafting, CAD, or a related subject.
An equivalent combination of education and experience is acceptable.  Basic experience in land planning, development, surveying, drafting, construction, or inspections.  Possession of a valid Georgia driver's license.  Within a one-year working test period, must pass State of Georgia Water Distribution Certification.
---
CREWMAN II
GENERAL PURPOSE  
This is semi-skilled manual work in which some independent judgment is exercised in carrying out duties.  Work involves more than usual physical strength and endurance and is usually performed under close supervision. Verbal work orders are issued and work is inspected frequently. One or more crewmen may assist employees in this class.
Education and Experience:
Graduation from a high school or GED. Any equivalent combination of education and experience.  Possession of a valid Georgia driver's license or any license deemed for a specific job.  Within one-year working test period must pass State of Georgia Water Distribution Certification.  An equivalent combination of education and experience is acceptable.
---
---
WASTEWATER MAINTENANCE SPECIALIST I
GENERAL PURPOSE:
This position is skilled licensed work in equipment operation and maintenance in wastewater treatment/pretreatment facilities and wastewater collection systems.  Work involves the operation of wastewater treatment facilities and equipment to ensure compliance with discharge permits. Work also involves the inspection and routine preventive maintenance of plant and collection system equipment. Work is performed according to specifications received on a particular job and received based upon results obtained. Employees in this class may be assisted by Wastewater Maintenance Specialist and Wastewater Operators
EDUCATION AND EXPERIENCE
Graduation from a high school or GED. Considerable experience in wastewater treatment/pretreatment equipment operations.  Possession of a valid Georgia Class III Wastewater Operator license within one year.  Possession of valid Georgia Collection Systems Operator license within two years.  Possession of Maintenance Technologist – Level IV Certification within three years.  Possession of a valid Georgia driver's license.  An equivalent combination of education and experience will be considered.